....will be alllll miiinnne come next Friday! She is a red-long haired Standard Dachshund and is 4mo old now, and she should get to about 16 pounds at the most. He said she is the smallest of a litter of 7!
She comes from a long line of champions on both sides, her mother and father have both won several awards.
Here is Mom:
and here is dad:
Aren't they stunning?!
<3
I need name help! I was thinking Abby or Millie, but I'm not sure. I'm really leaning toward Millie though.... What do you all think? Comment with other suggestions as well!
<3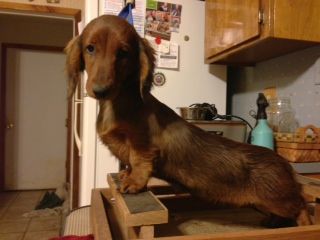 So what names would suit her? I want to give her a real name, not a silly name.