So I finally decided to post my labor story for everyone. So i am going to make this as short and sweet as possible.
At 34 weeks I went in to preterm labor. I beat the odds by making it to 36 weeks 5 days when my labor pains changed. I didn't want to go to L and D again if it wasn't real labor so i went to my mom's house and hung out with her instead. We went for a walk and she started timing my labor. I was having contractions every 3 minutes. After a long time we finally went to L and D. I had dilated from 3cm at my last check up with my doctor that week to 4cm. So they watched me for another hour. I had no change but they wanted to watch me for another hour just to be safe. My mom and I walked around for a while and then went back for me to get rechecked. I had made a slight change this time so they admitted me. I walked around the maternity ward with my mom for a few hours trying to progress since they weren't going to stop my labor this time but they weren't going to give me pit either for the moment. After about 4 hours I was dilated to 5cm. Another 4 hours I was to about 6 to 7 cm. In the morning my doctor started me on pit and came to break my water. But not before I decided to get the epi because I was so tired. Man it was horrible getting the epi done this time. The guy was seriously stabbing me with his fingers in my spine. And for some reason I was scared smurfless this time around like I never was with my other two. I have to say that it was great once it was done though. I could still move my legs and feel everything but with out the pain. So I napped for about a few minutes after the doctor broke my water. When I woke up I told my mom I felt a lot of pressure in my butt so she got a nurse. She checked me and said i was still just 7 cm. Seriously less than a minute later I told my mom I felt the urge to push so she got the nurse again. My mom said the nurse turned to one of the other nurses and rolled her eyes saying "I JUST checked her". Well sure enough I was 9cm. Like two seconds later I was complete. Next thing I know I am yelling at the nurse to hurry up or he is going to fall out of me. I wasn't pushing but I could feel him moving through the birth canal. I say it over and over. By the time the doctor is ready I haven't pushed once and his head is right there! One small push his head is out....though had I not pushed it would have just fell out. The rest of him fell with out me pushing with the next contraction. Ezra Eli was born at 9:59am on October 22 at 36 weeks 6 days gestation. He was 7lbs 13ozs, 19 1/2 inches long, and had a 13 1/4 inch head. He was so beautiful I almost cried.
He was a super waxy baby lol.
Little foot!
His big sister meeting him for the first time!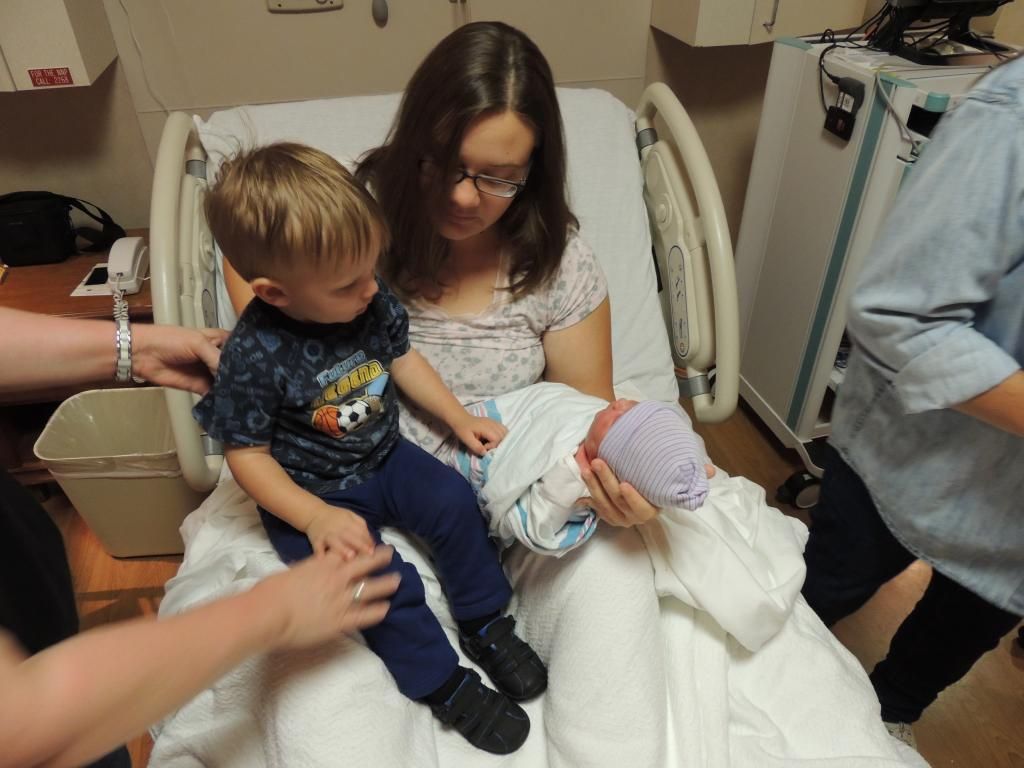 And his big brother meeting him for the first time. He calls him little bubby lol.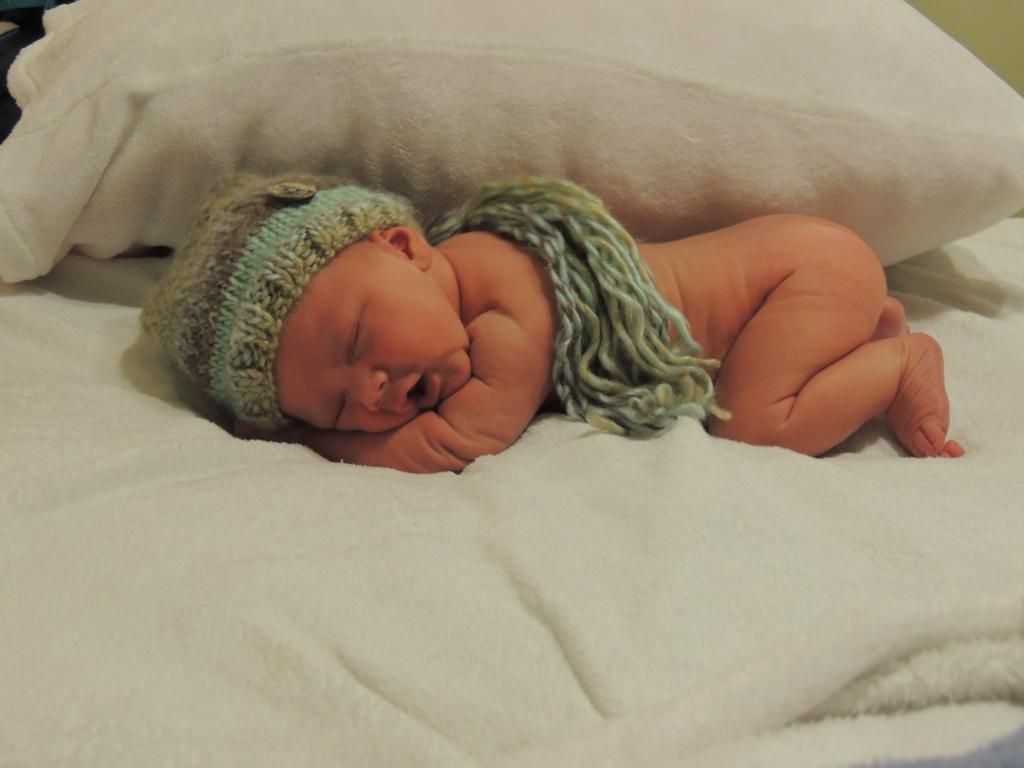 Just some picks from when we finally got out of the hospital.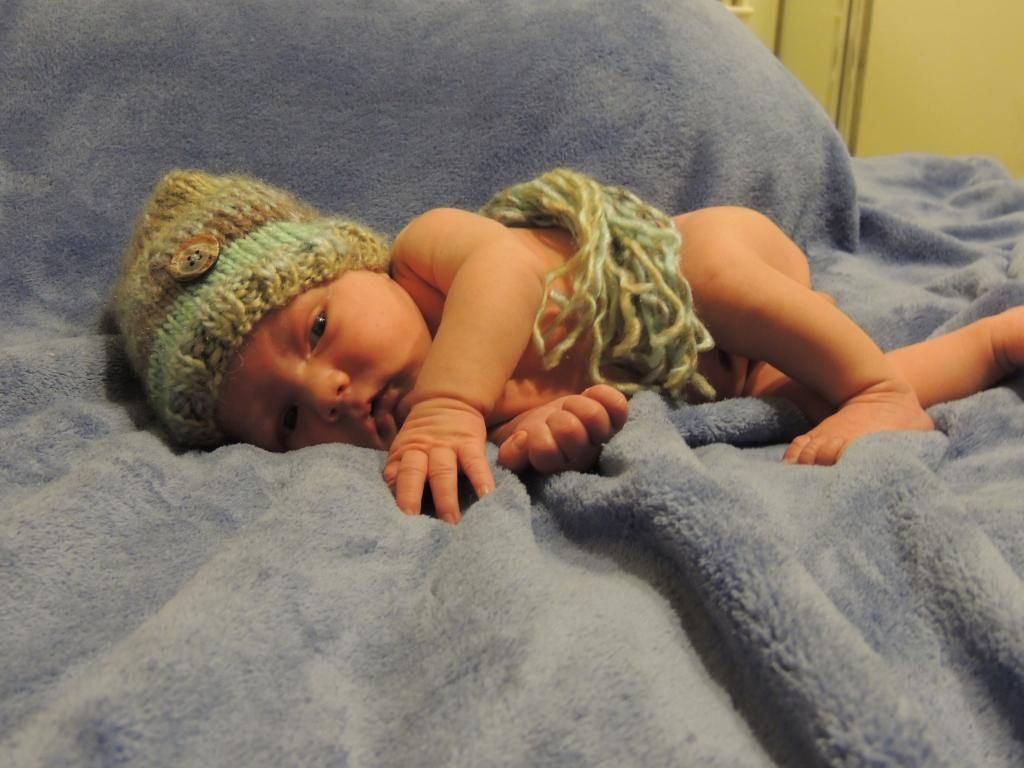 I love that little face!
Yep he has a butt chin and I love it!
He is so beautiful and he looks like he is an old man with an old soul ( the way he looks at you like he knows ya know) so I call him my little old man lol.
Thanks for looking and reading I love my new little old man
!!!