ok for another recipe i have is sweet and yummy....dont get turned off from the name this is something you have to try!!
Ingredients:
Glass mixing bowl ( or microwave bowl)
Chex cereal
Choclate chips
Peanut Butter
Powdered suger
Directions:
In the mixing bowl add you choc. chips and melt in microwave for 2 1/2 3 mins
then add you peanut butter( couple table spoons or if your like me and you like peanut butter I add about 4 ) and put back in microwave for 1 minute
stir both together making sure peanut butter is mixed in well
add your chex cereal but be careful since this cereal likes to crumble easily
put everything in a plastic tub with add in the powdered sugar and put lid on the tub....
shake gently making sure all the cereal is coated..
put in fridge for about 20 to 30 mins
take out and some pieces might b in big clumps that is ok lol
eat and enjoy
THIS IS WHAT IT SHOULD LOOK LIKE WHEN YOU ARE DONE :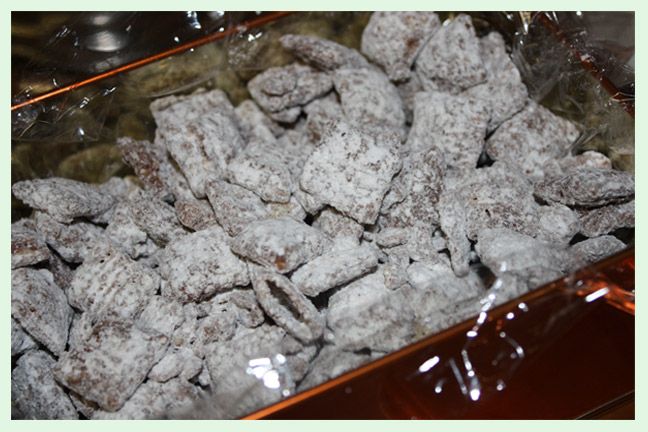 DONT FORGET TO POST WHEN YOU HAVE MADE THESE AND TELL ME WHAT YA THINK